This feels like a hard communication to write and for people who are interesting in not knowing anything about this film please consider this a warning that there are going to be many spoilers.
I took a trip with some science type friends to see Rogue One, the stand-alone Star Wars movie set in between film episodes three and four. I went to the Odeon cinema in Maidstone which was fine. As is a custom now I rated the film after watching it on IMDB, you should probably read this communication about the rating system and you might also be interested in this one about Star Wars Episode Seven.
I rated Rogue One (2016) 6/10 #IMDb https://t.co/kZhNMLvUin

— Ian Parish (@iparish) December 19, 2016
I think I ought to explain this rating as a six is pretty low. Episode 7 got a ten by default but the more I think about it the more I feel I should have been more honest with myself. I'm not sure it would get a 10 now, even though I own a copy. Rogue One will probably be purchased which would default the score to a 10, but in reality the film was a little bit shit.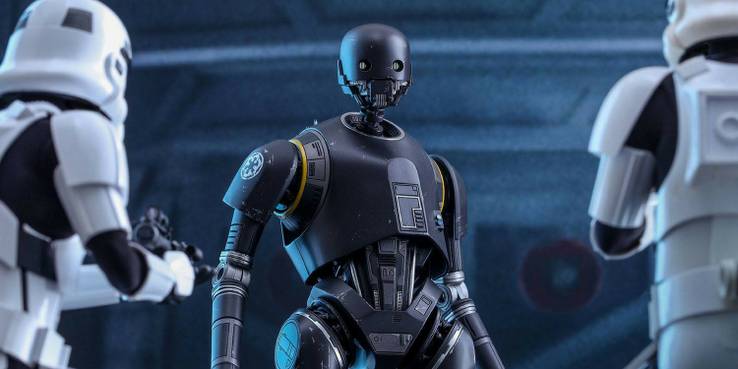 Do Not Read On (mostly because it is poorly written)
The best thing about this movie and quite likely the only good thing about this movie was the droid K-2SO. I would have quite happily listened to him much more throughout the film, he was the only character who seemed to have a sense of perspective, or even character. He was voiced by Alan Tudyk who has been in some of my favourite shows.
I was slightly bothered that there were no floating words telling me what had happened and that we didn't get the Star Wars opening theme. Start with a child disobeying her father and then watching her mother killed, obviously you need psychological trauma and daddy issues to be a hero. Then we have little sequences on lots of planets that I couldn't give a shit about and we learn that the Empire is making a massive weapon.
This film seems to be consistent with conspiracy nuts in that it believes you can have a massive infrastructure project and keep it secret from everyone, even though everyone knows this is being built. Also, it seems that the entire galaxy knows that a cargo pilot has defected with information and he needs to be debriefed.
I spent a large amount of the first act worried about intelligence gathering in a age when the whole galaxy has access to rumours and ideas. I just didn't like it.
Then the heroine gets rescued and debriefed / interviewed in the Rebel fucking control room in front of the senators and all the bloody equipment. You DON'T put prisoners in the control room, what shit.
Then some stuff happens. I may have to come back and fill this in once I've seen the film again. Perhaps I can over my prisoner logistical problems.
Then we have a scene in the control room again where the Rebel senate appears to be discussing ALL the details about the secret plans in front of everyone including every pilot and vaguely important person. "The secret plans are held on this planet" etc. Arrrrrgh.
There's a blind monk who chants shit about the force, but the film maker clearly shows him using his hearing to work out where things are, he doesn't use the force. He's a charlatan.
Let's invade a planet and make it look like a Vietnam War film, that'll keep the dads happy. I seriously felt like I was watching a 'nam film. Bloody palm trees.
Why was there a random shutter opening and closing at the top of the data tower. WTF? It makes absolutely no sense that it is there, apart from trying to appease kids who watch and play computer games and need to get the timing correct.
So, you build a massive tower to store all your plans for every building in your Empire. Then you need a transmitter which you just happen to build on top of your tower. Finally, you place a data reader and transmit controls OUTSIDE at the TOP of the tower. Not somewhere safe inside the building. WHY would you do that? Why would you put a control system in a place where the weather will get to you? AND then you place some of the controls on the end of a platform sticking out from the tower. Fuck this movie.
I quite liked the ending.